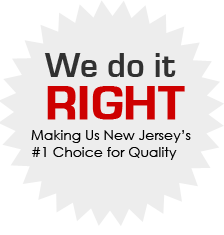 Trusted and recommended since 1986 JEM Mechanical has the unmistakable reputation of being the premier provider of quality workmanship. From the beginning the highest priority has been placed on you, the customer. Placing your needs first has made us New Jersey's #1 choice for Plumbing and Heating needs. It is our desire to listen to you and find solutions that work for your specific needs! As a result of our committment to honesty, integrity and professionalism almost all of our work comes from referrals.
Services Include:
Garbage Disposals
Water Heaters
Water Filtration
Steam and Hot Water Boilers
Thermostats
Leaky Faucets
Old Tub Valves
Gas Pipes
Appliance Installation
Outside Hose Faucets
Residential, Commercial and Industrial
Radiant Floor Heat Specialists
JEM Mechanical's broad range of Residential Services literally covers anything that has to do with plumbing or steam/hot water heating in your home. If it backs up, leaks, bangs, clatters, smells bad, gurgles, smkoes or does anything else that keeps you awake at night... We Will Fix It!